An American helping rebuild a legendary English club is a special story. Bruce Greenberg is the subject of that story as he does his part in bringing phoenix club AFC Rushden & Diamonds to life and future prominence.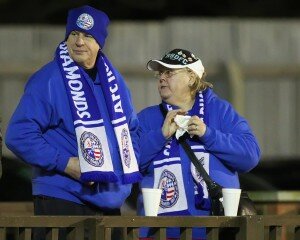 Fans gather to see AFC Rushden & Diamonds in action against Wellingborough Town XI (Photo Credit: Mal Swinden).
Greenberg arrived in 2006 at a time when Rushden & Diamonds was at the top levels of non-league football.  He chose to support R&D even though he had other local options like Northampton Town and Kettering Town.  He began following the team, helping out with their radio station and media work.
Greenberg was quite a novelty, an American broadcasting for an English club, and had to carefully avoid using American terminology like "soccer" and "out of bounds".  The novelty quickly wore off as he was quickly accepted by all of those involved with R&D.
But the storm clouds quickly rose over Rushden as the team experienced 2 relegations in 3 seasons amidst some serious financial concerns. Supporters knew the club was in trouble, but no one knew how bad the damage was.
The team was 500,000 pounds in debt with no savior on the horizon.  Supporters were only able to raise 50,000 pounds so the idea of a supporter-owned team seemed to be little more than a pipe dream.
"It was a gut-wrenching experience, a blow to the cranium," Greenberg commented.
The team folded and Chairman Keith Cousions did the unthinkable, allowing hated rival Kettering Town to occupy Nene Park, R&D's former home.
"Kettering Town was a team we loved to hate," Greenberg declared.
The move, which Greenberg called a "double whammy," added insult to injury.  Kettering left Rockingham Road to set up shop at the larger Nene Park. Obviously this caused quite a controversy among R&D, who quickly moved to set up a club of their own.  Some fans even developed conspiracy theories at how Cousins might have worked a backdoor deal with Kettering Chairman Imraan Ladak.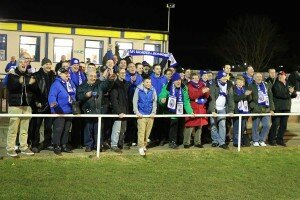 Supporters show their support during a match against Irchester United XI (Photo Credit: Mal Swinden).
Within a matter of months, AFC Rushden & Diamonds was born  with a youth side taking to the pitch.  The club now hopes to join the United Counties League with their first team in 2012/2013, along with adding more youth teams and a woman's side.
Those involved with this season's youth team hope that several of the younger lads will graduate to the first team.
Greenberg is high on keeper Ashley Foulger and midfielders Ashley Meeks and Louis Smith. Foulger claimed a 120 minute clean sheet against Rothwell Corinthians, while Ashley Meeks landed the shot of the season against Northampton ON Chenecks. Smith tallied the game winner in the 1-0 victory against Rothwell.
Greenberg has been there from the start and will be there to help the team prepare for the debut of the senior team next season.  His good work has not gone unnoticed.
"He has been fantastic this year getting involved with AFCRDTV and showing us how a professional does things," AFC Rushden & Diamonds Vice Chairman Jon Ward remarked. "We are all delighted to have him on board and he is a real asset to the club."
Greenberg shows us what it means to be a real supporter, someone who gives their all to see their club grow, flourish, and in R&D's case to live another day.
Pelé is unquestionably the world's greatest soccer ambassador, spreading his love of the Beautiful Revolution wherever he goes. He has become the game's strongest supporter and has been the source of inspiration for millions around the globe. From the streets of New York to the fields of South Africa, Pelé Sports is a name synonymous with passion, creativity and innovating the game the way it should be played. A world without Pelé would be a world without soccer with millions missing out on the joy and the Beautiful Revolution we all love in this game.
Today's supporters carry on the prestigious legacy of Pelé, growing and promoting the game in their own communities and passing the torch to a new generation of footballers. Mainstream media outlets have failed to give a face to these fans, people who do extraordinary things everyday and have stories that deserve to be told. Whether it is an Iraqi War veteran who is a passionate supporter of his favorite MLS side or a student making an impact on the college game, the concept of ambassadorship is alive and well here in North America. Today's supporters are not hooligans or fanatics or even überfans, but rather gatekeepers to the true spirit of the beautiful game.
International Soccer Network, in conjunction with Pelé Sports, plans to celebrate the contributions of North American soccer fans every month with a new series of feature articles.